Kabupaten Badung, Bali
Where is the best dining place in Seminyak? In the town where a new trending dining place seems to be? These have come to be one of the most regular question (and hard to answer) from the tourist in Bali. We decide to narrow your choice a bit by providing you with the top 10 best dining places in Seminyak while seeking to take pleasure in a gourmet, and upscaling your dining experience!
1. Sardine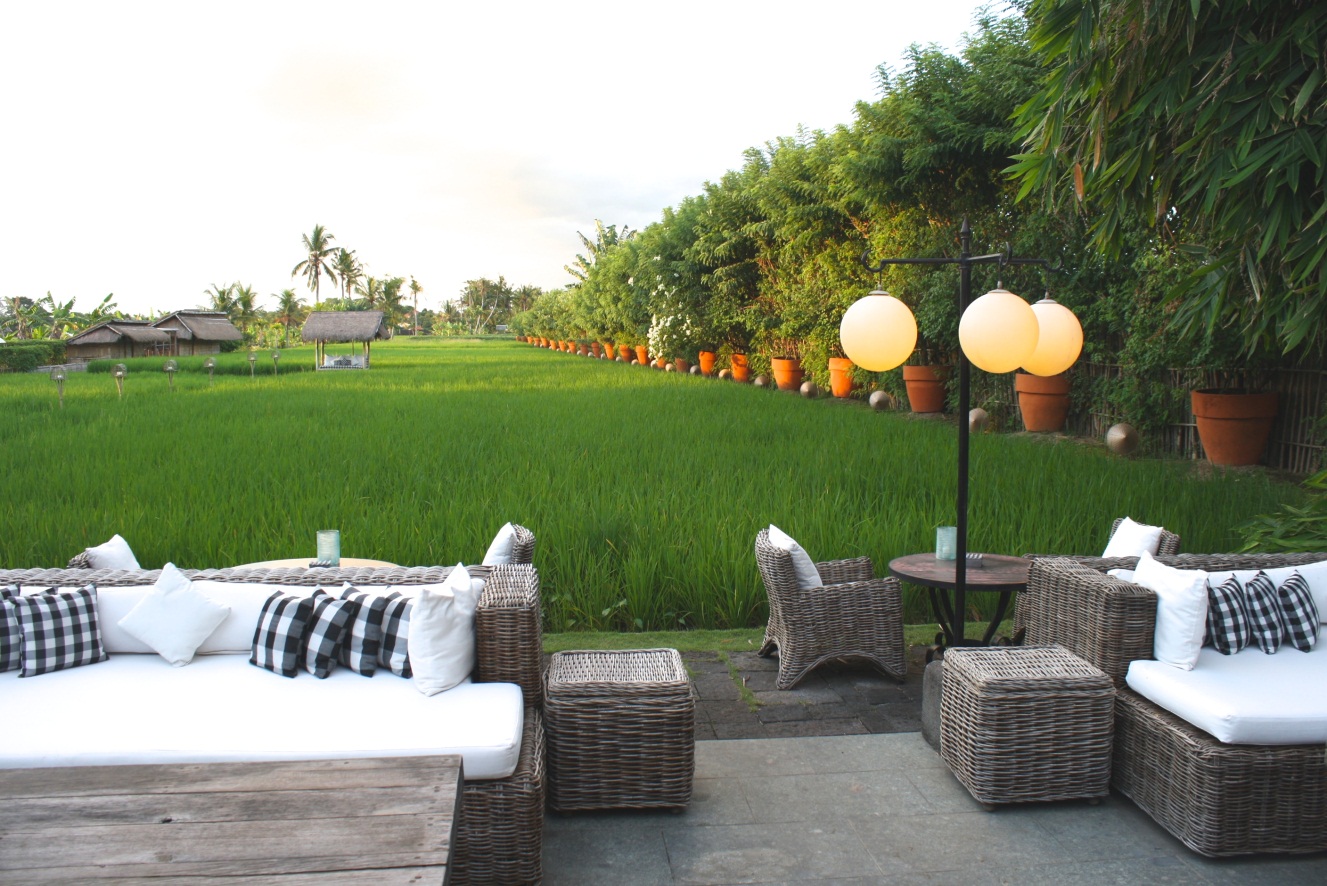 One of Bali's most famous dining places, Sardine serves French delicacies in a setting of green rice field and banana trees. The eating place itself sits in a bamboo shed and serves up fresh and healthful natural product from the farm. Very recommended!
Address: Jl. Petitenget No.21, KerobokanKelod, Kuta Utara, Kabupaten Badung, Bali 80361
Phone: 0811-3978-333
Price: $$-$$$
2. Métis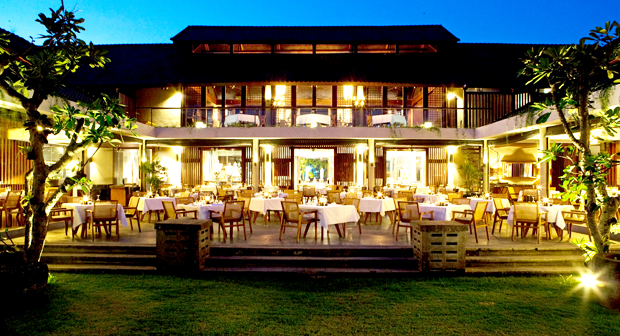 One of Seminyak's authentic 5-star, this French-inspired restaurant still earns its spot on our list because of its consistent high-quality of dishes and sophisticated ambiance. The steak is a must-try and the French wine listing is complete (with costs you'd expect at domestic). The new sofa lounge and bar looking out throughout the lily pond and lotus blossom makes this a great choice for large groups for special occasions.
Address: Jl. Petitenget No.6, KerobokanKelod, Kuta Utara, Kabupaten Badung, Bali 80361
Phone: (0361) 4737888
Price: $$$$
3. Mama San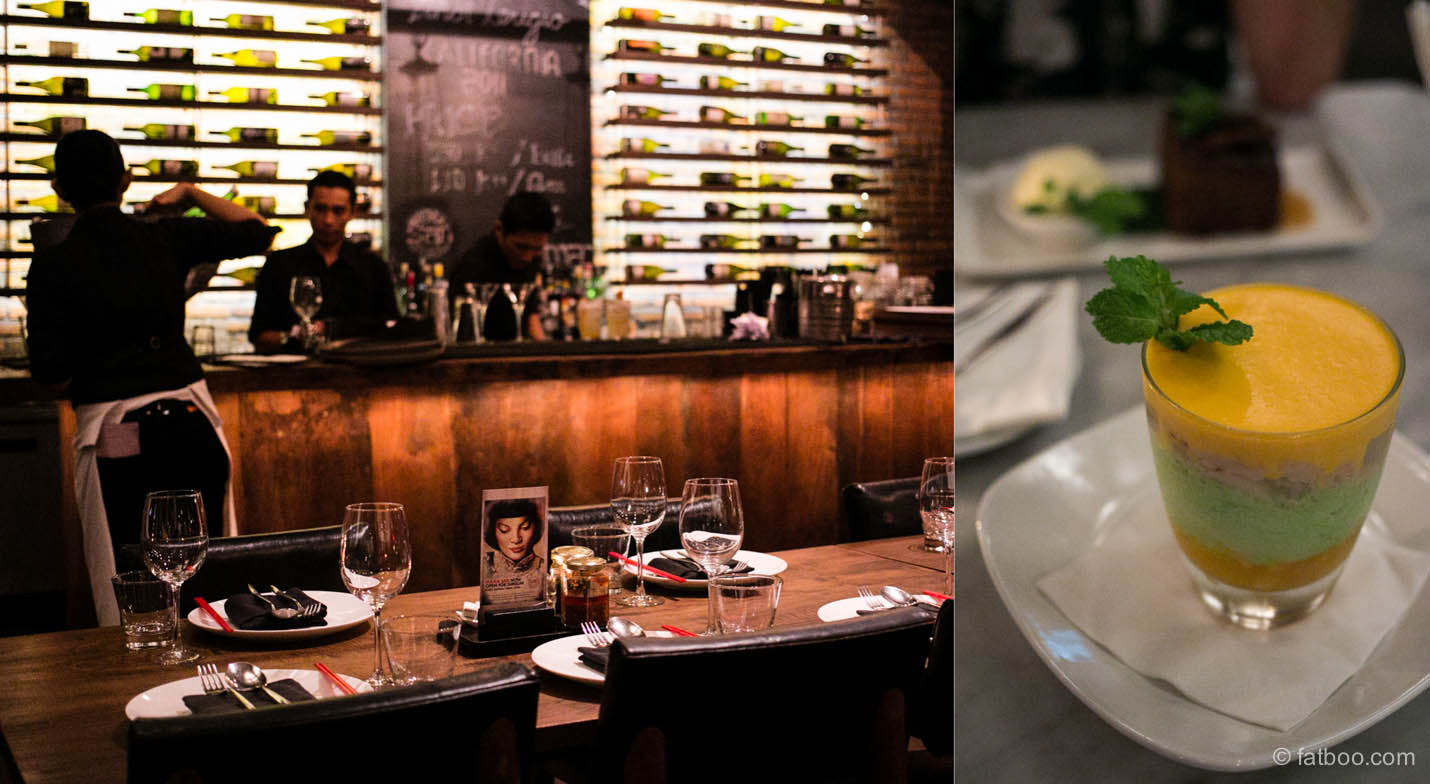 A newcomer on Seminyak's foodie block, Mama San has speedy earned a high-ranking recognition as an innovative and fresh restaurant here in Bali. Domestic to an Asian fusion-stimulated kitchen, the starters and main dishes complement each other well and are supposed to be shared in a sampling style. The red meat and bamboo dumplings along with the clay pot snapper never fail to impress. The atmosphere is humming, the Tables personal, and the bill not as jaw-dropping as we would expect from a restaurant of this caliber to produce. Reservations clearly required; book far earlier if possible.
Address: Banjar Taman, Jl. Raya Kerobokan No.135, KerobokanKelod, Kuta Utara, Kabupaten Badung, Bali 80361
Phone: 0812-3634-3386
Price: $$-$$$
4. Sarong
A favorite placed in the middle of Petitenget, Sarong serves infamously massive portions of Asian-fused dishes such as a combination of Thai and Indian flavors. From crispy pork belly and tempura zucchini flowers to Tandoori chicken and garlic naan, it is easy to find a variety of options for each appetite. Remember to tell the waiter earlier in case you don't like your plate spicy, as some of the flavors by default are at the medium to very spicy side.
Address: Jl. Petitenget No.19X, KerobokanKelod, Kuta Utara, Kabupaten Badung, Bali 80361
Phone: 0812-3634-3386
Price: $$$$
5. Bambu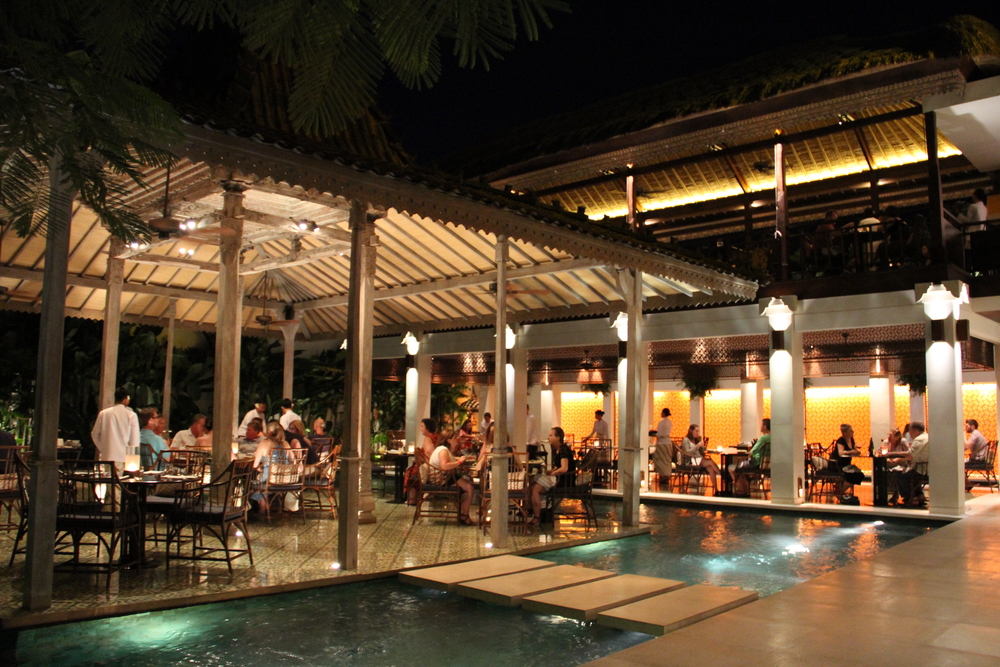 Strongly argued to be the best new eating place in Seminyak, Bambu is a hidden gem specializing in traditional Indonesian delicacies with a sparkling twist. Chicken satay, prawns, spicy sambal; it's everything you love about the small warungs (small local cafes) in a gourmet setting. For dessert, try the Dadar gulung or green pandan crepes wrapped around coconut and palm sugar, with ice cream!
Address: Jl. Petitenget No.198, KerobokanKelod, Kuta Utara, Kabupaten Badung, Bali
Phone: (0361) 8469797
Price: $$$
6. Biku
Biku isn't only excellent for family tea times in the day, however, it also serves delicious food for dinner. Set up in a stunning 150-year-antique rustic Joglo pavilion in Petitenget, providing an indoor and outdoor sitting areas plus a little playing corner for the children, with toys and pencils, Biku makes a favorite eating place for families with children. The menu is diverse from traditional Indonesian meals to salads, (veggie) burgers and homemade pies to Indian, Chinese, and Thai style dishes. Children will not be left out with Biku's special kid's menu to make their little bellies full and happy.
Address: Jl. Petitenget No.888, KerobokanKelod, Kuta Utara, Kabupaten Badung, Bali 80361
Phone: 0851-0057-0888
Price: $$-$$$
7. La Lucciola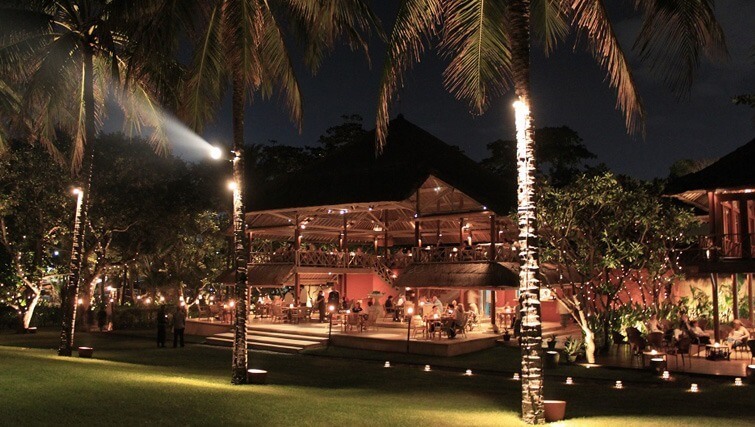 This absolute oceanfront eating venue is nearly iconic to Seminyak eating place scene. Serving great Italian haute-cuisine to sunset views and the sound of the ocean. Think of homemade pasta, risotto, oven-baked snapper with shallots and oregano, wonderful coffee and mouthwatering cakes. From the parking lot, you have to enter the Petitenget Temple to get to La Lucciola, tucked in a lovely double-storey pavilion with a tropical thatched rooftop. The atmosphere is elegant and but warm and comfortable. Every family favorite and also flawlessly right for romantic couples that looking to enjoy a candlelight dinner by the seaside in Seminyak
Address: Pantai Petitenget, Jalan Kayu Aya, Kerobokan, Kuta Utara, Seminyak, Kuta, Kabupaten Badung, Bali 80361
Phone: (0361) 730838
Price: $$$$
8. Merah Putih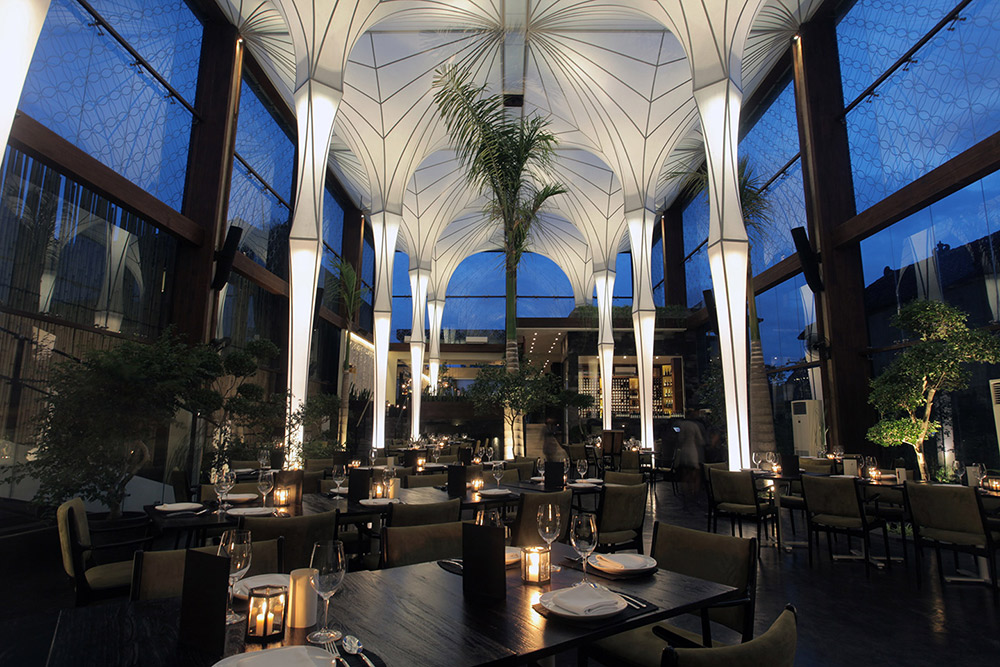 Named after the colors of the Indonesian flag; White and red, Merah Putih serves high-quality traditional Indonesian food with an exciting modern twist. Merah Putih follows the lifestyle of family eating in which plates are served within the middle of the desk for friends and family to share, tasting something of the whole lot. The menu is split right into a traditional with influencing of modern phase. All dishes are delicious with spices and flavors from across the archipelago. Not only the meals are splendid, the architectural design of this eating places is also amazing! Go visit it!
Address: Jl. Petitenget No.100X, KerobokanKelod, Kuta Utara, Kabupaten Badung, Bali 80361
Phone: (0361) 8465950
Price: $$$$
9. Ryoshi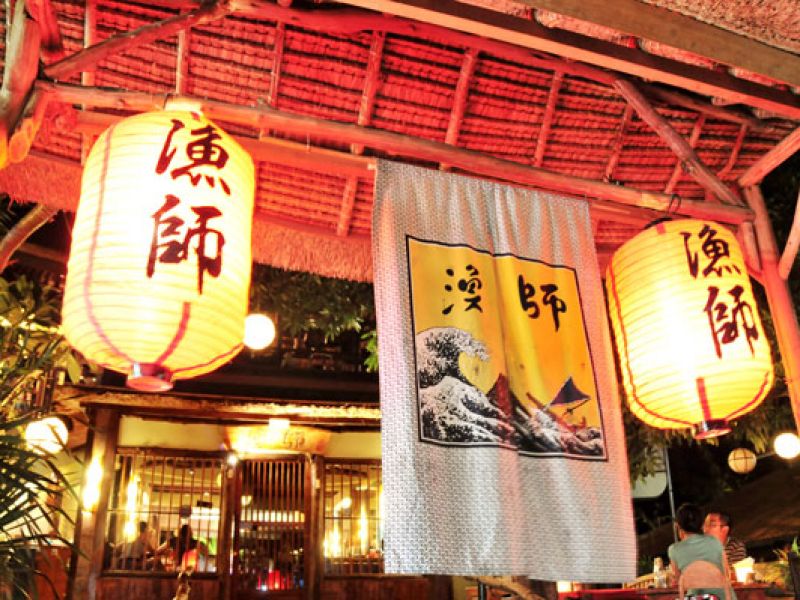 Much loved among expats, Ryoshi combines remarkable Japanese cuisine with excellent quality live Jazz bands and therefore this restaurant is likewise known as 'The residence of Jazz'. Sit down at the Japanese-style dining table for the excellent spot to dine, enjoying the food and looking the live band at the same time. Ryoshi features a grand double-storey, thatch-roofed pavilion with open-air and air-conditioned eating areas to match everybody's desires. You could munch on homemade sushi rolls and wasabi all night long and you probably will end up staying until closing time whilst the band has put an end to this splendid night out. Monday evenings are the best when Rio Sidik throw off their live set. The tune starts at 9.30 pm and you better reserve a table in advance in case you need to sit upstairs where the magic takes place.
Address: Jl. Raya Seminyak No.17, Seminyak, Kuta, Seminyak, Badung, Kabupaten Badung, Bali 80361
Hours: Open today • 12PM–12AM
Phone: (0361) 731152
Price: $$-$$$
10. Ultimo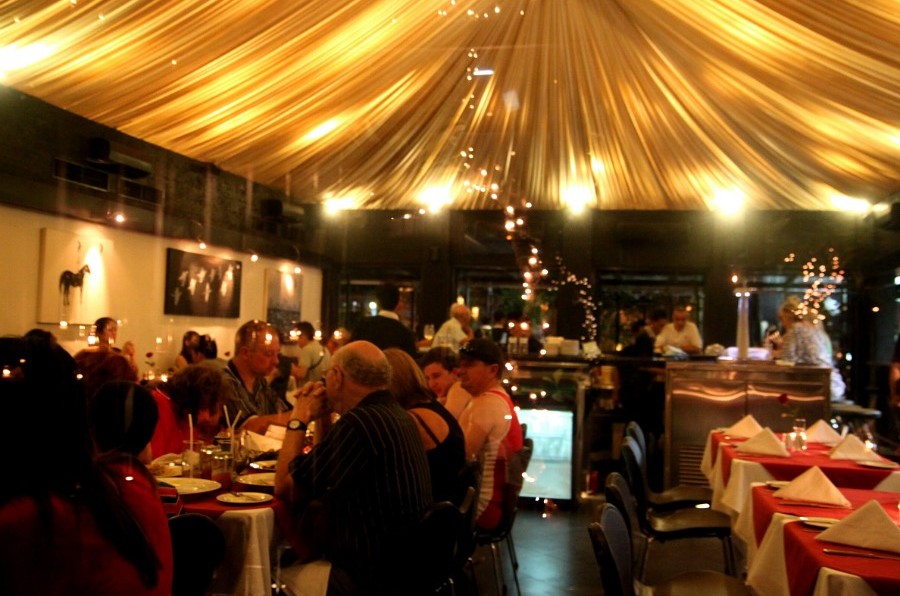 Ultimo has been claimed to be an excellent Italian eating place of Seminyak, placed at the happening eat street, upscale Oberoi district of this sophisticated little seashore town. Providing a beautiful garden patio in addition to an air-conditioned dining room, Ultimo creates a perfectly romantic setting to dine with the one you loves, especially when there is a live band on. Experience a great glass of wine and mouthwatering Italian delights in a heartwarming atmosphere.
Address: Jalan Kayu Aya No 104X, Seminyak, KerobokanKelod, Badung, Kabupaten Badung, Bali 80361
Phone: (0361) 738720
Price: $$-$$$