Nusa Lembonga, Bali
It may be hard to keep up with all the new eateries popping up throughout Bali and the neighboring islands, so I thought I'd do a Nusa Lembongan dining place will be nice.
I aim to try out a new eating place or Warung for every meal. I'm no longer into the great fancy locations where you get a little leaf to your plate.
1. Bali Eco Deli Jalan Raya Jungut Batu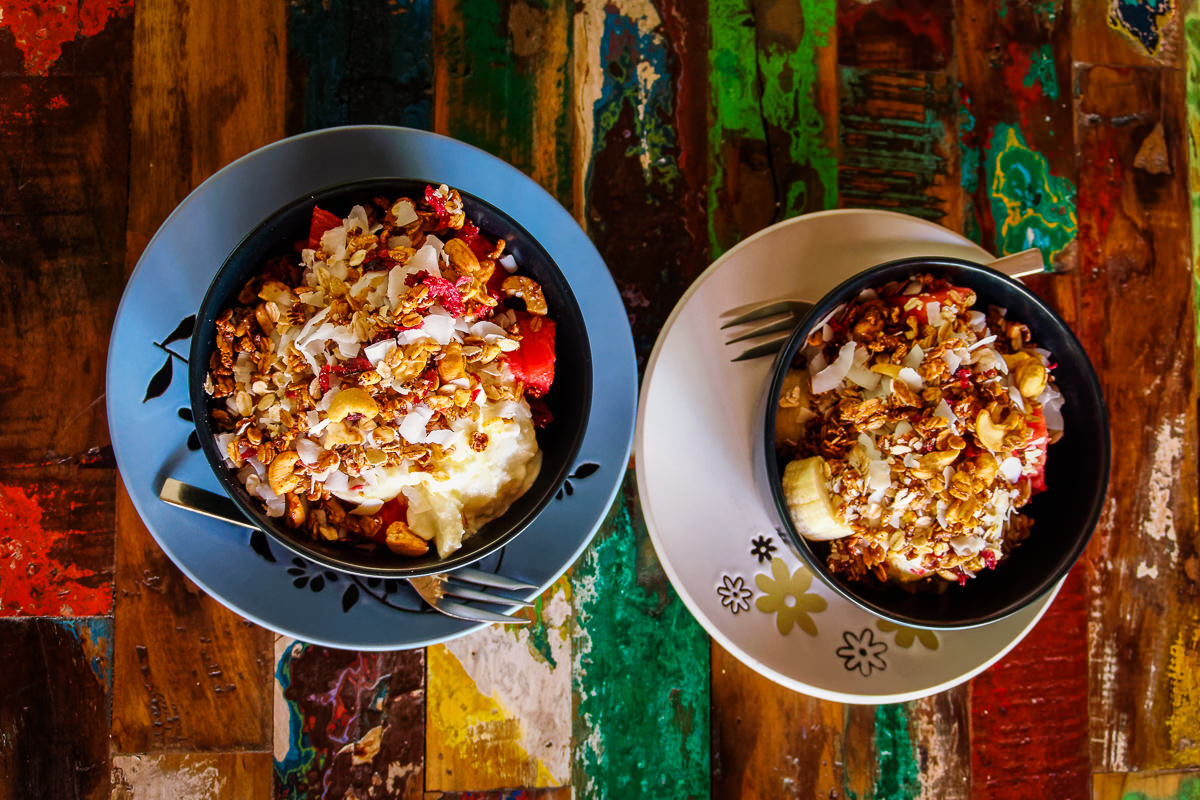 My favorite lunch spot at the island is open every day from 7 am to 9 pm. the whole lot on the menu is made in-house using fresh ingredients sourced from organic & fair-trade farms. I especially love their fresh salads and the banana bread is to die for. They provide free high-speed WiFi for visitors and are the only café on Lembongan providing free water refills while using non-disposable or reusable bins.
There's no mystery that Bali and Lembongan have a rubbish and plastic trouble, it's floating anywhere. Bali Eco Deli has installation a small recycling program trying to change this. So in case, you bring a few plastic, you'll get a 10% discount for your whole order. How great is that!? They now also were given healthy ice pops, just like the Dragon fruit and Pineapple.
Address: Jalan Raya Jungut Batu, Jungutbatu, Nusa Lembongan, Kabupaten Klungkung, Bali 80000
Price: $
2. B' Fresh Juice Bar & Coffee Corner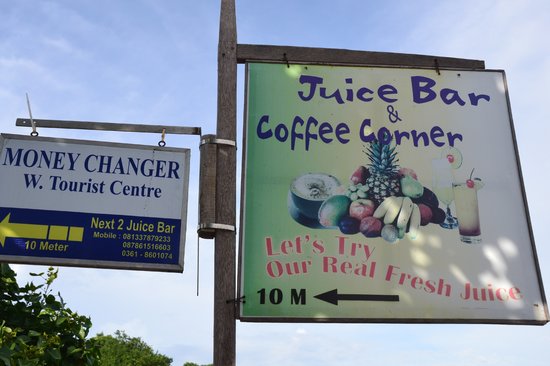 This is a true hidden gem, look for the 'Juice Bar & coffee corner' sign! The constantly friendly Putu runs the place by herself with only a bit assist from her daughter, but nonetheless manages to whip up some surprisingly tasty Indonesian and western meals. I mainly just like the Bacon & egg roll and the mouthwatering whole-wheat pancakes with tropical end result and curd.
Reputedly her bird burger is the best on the island, it's a shame I didn't get time to taste it. I don't know the opening hours precisely but I assume they open around 8 am. You can also have your beverages take away, perhaps a healthy juice or smoothie after surf? Cheap and tasty all the way!
Address: Gg. Nusa Indah, Jungutbatu, Nusapenida, Kabupaten Klungkung, Bali 80771
Price: $
3. Warung Agung Beach Cafe
A picture of perfect bohemian warung up by the Mangrove forest where you can relax out all day. They serve Indonesian meals that specialize in Sate and also make a killer chocolate pancake. And best of all it's budget friendly!
Address: Unnamed Rd, Jungutbatu, Nusapenida, Klungkung Regency, Bali 80771
Phone: 0819-1656-3501
Price: $$
4. Pisang Pisang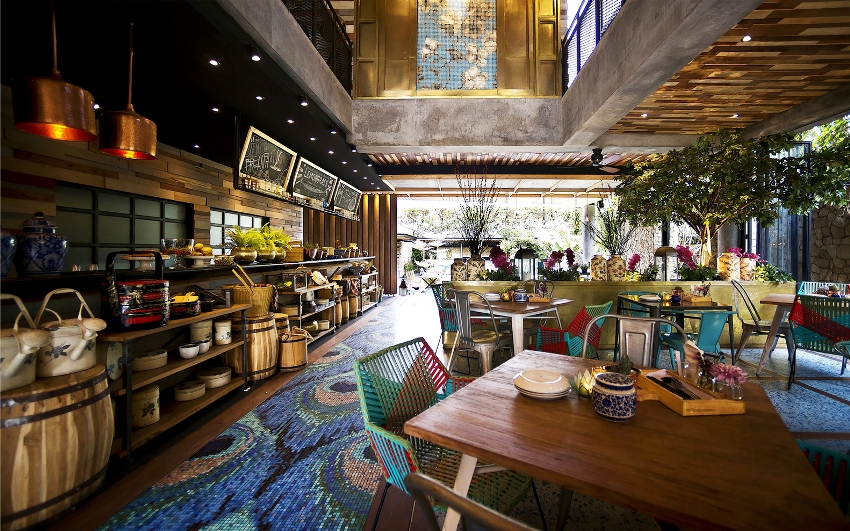 Pisang Pisang, the eating place related to the Rama garden Retreat, is another tremendous region to get some delicious juices and smoothies. Additionally, they provide more than a few healthy vegetarian, gluten-free and vegan food menus. Prices are relatively higher than what you'll expect from a small location like this tucked away down an alley, however, I nevertheless think it's well worth it. With old-school surf movies playing within the lounge place, free wifi and a book exchange, this is an extraordinary hangout spot between surfing and exploring the island. Open every day from 7 am – 9 am.
Address: Lembonganisland, Indonesia, Jungutbatu, Nusapenida, Klungkung Regency, Bali 80771
Phone: 0819-1656-3501
Price: $
5. Blue Corner Bar & Restaurant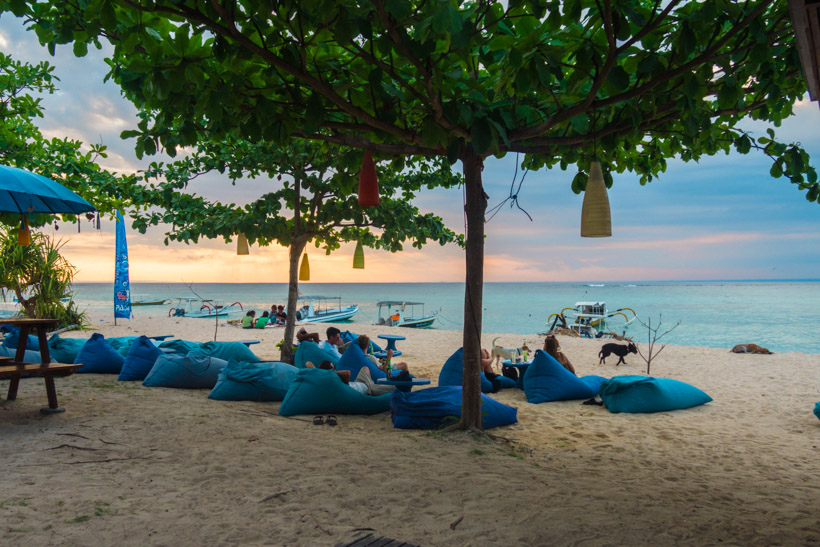 Blue Corner Bar & Restaurant is one of my visit night spots on the island. It's the proper place to relax out with a Bintang on the bean bags at the seaside and enjoy a beautiful view of the sunset. The vibe is young and cozy, so it's a splendid place to mingle and make some new buddies.
Their fairly new Mexican menu is splendid, not surprisingly as it's made by a real Mexican chef. My favorites so far are the homemade organic corn tortillas with plenty of various yummy toppings. Pair that with wi-first-rate friendly service, great music (sometimes live bands) and free Wifi and you have a winner. I didn't get the opening hours, but we have been there from 6 pm till 9.30 pm, sure we simply kept on eating.
Address: Gg. Blue Corner Jalan Jungut Batu, Nusa Lembongan, Jungutbatu, Nusapenida, Kabupaten Klungkung, Bali 80113
Phone: 0823-4130-8480
Price: $
6. Lemongrass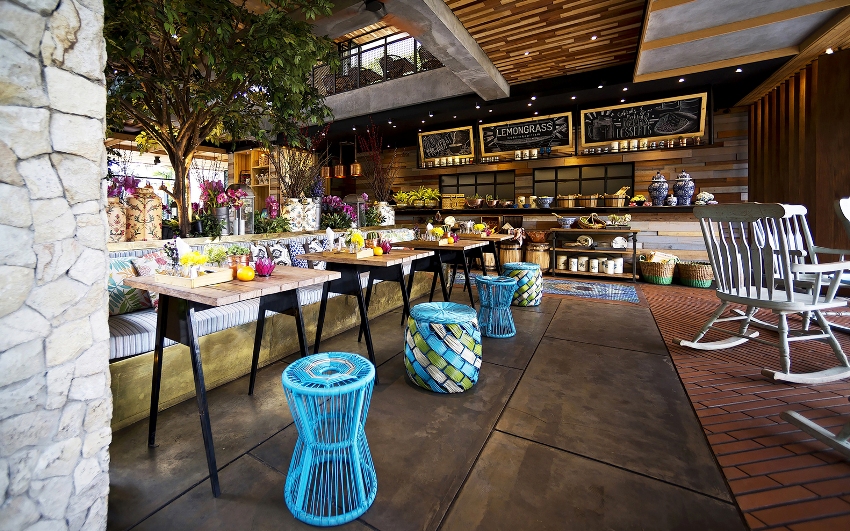 Lemongrass is a fairly new and easy to spot bar & eating place right on Jungut Batu main street. As a 100% local initiative, the eating place serves fantastically presented Indonesian and Western food. I've read numerous reviews saying the prices are high, but I suppose they're pretty reasonable for what you get. For example, salads are 30k – 40k, pizzas 40k – 60k and pasta 40k – 50k. Not bad at all in my eyes!
It's open every day from 8 am – 11 pm, so that you can enjoy breakfast, lunch, dinner and evening refreshments. Happy Hour with 2 for 1 cocktail is on from 3 pm – 6 pm and best of all they offer a free pick up and drop off service! Once in a while they also have live music in the evenings, look for posters around the island to look when it's on.
Address: Nusa Lembongan, Jungutbatu, Nusapenida, Klungkung Regency, Bali 80771
Phone: 0812-3808-999
Price: $